Two Masterclass Series for One Special Price
Master the Art of Activating Assisting Frequencies and Project that Assistance to those in need
Anahata Codes Masterclass Series AND
Grid4Gaia Masterclass Series
Over 20 hours of LIVE teaching from Anahata and
a seat at any future Masterclasses of the same series!
00 121 49 628928 327 928 42 98
After being called to "Heal the Waters" and work through the Bermuda Triangle Portal, Anahata moved to Florida, USA just in time for Hurricane Irma to hit and bring with it new downloads of urgency and Divine upgrades.
​
Her work birthing Anahata Codes over the last 3 years continues to expand now as she shares new information with you about how to restore the Earth's primary resonance to unconditional love using Alchemy paired with Assisting Frequencies. We have a unique opportunity to assist in the evolution of our Planet.
​
A continuation of the Anahata Codes Masterclass Series, the Grid4Gaia Masterclass teaches you how to build Vortexes of Assistance and project that assistance personally, locally, and across the globe.
Anahata is now offering both Masterclasses for a limited time for just $555 (a savings of over $200)!
​
She encourages and empowers people to remember how to co-create the world they want sans the fear, lies and manipulation we've been cycling for Centuries.
​
A Return to the Memory of Wholeness
Don't believe you're special? One of many lies you've been taught to believe. The masked cycle is coming to an end. It's time to emerge and remember that we are works of art, designed to activate dynamic self-healing and co-create the world in which we experience. We are not victims of our environment and we have choices in the ways we maintain and manage our wellness.
Chances are you feel an inner calling to be a part of the change which is sweeping the planet.
​
A massive awakening is occurring. But it begins with your own Energy Matrix.
​
We are taking back our power as we remember our natural connection to the Universe and leverage our Divine blueprint to activate transformative change for ourselves, our loved ones, our cities, and our Earth.
​
Now you can enroll in both Masterclass Series for over $200 off the regular price!
Are you continually receiving Divine messages in the form of coincidences and highlights shifting your attention towards:
​
The false layers of reality you are beginning to question?

The organized "chaos" which is evoking fear and manipulating us into believing and co-creating that reality?

Cycles of abuse, misunderstandings, high emotions, and even panic as most the world believes we are "going to hell in a handbasket"?

The continual manipulation by those in "trusting" positions which you are now beginning to see through and question?

The shifting time anomaly as we become more aware of our place outside of the individual unit you call "insert your name" and more aware of Unity and the Divine Consciousness which flows and makes us One

Energy in all forms (and judgement we've used to separate - good, bad and in-between)

Divine Intelligence and patterns (numbers, knowings, etc.) of a larger plan of which you somehow fit into?

A renewed awe in the miracles you witness each day and have been trained to take for granted?
Th​e great shift is upon us and we are all receiving powerful upgrades activating new DNA. It's evolution or extinction time and people are awakening to their higher purpose by the thousands in order to assist during this transition. The journey may be well underway for you or you may just be remembering.
​
Either way, the time for unconscious co-creation has passed. We can no longer afford to sleepwalk into oblivion. You're being asked to play a pivotal role in the most amazing transition this world has ever experienced.
​
It begins by cultivating your Wellness Vortex and projecting it out to co-create your world.
Remember Your Magnificence with Anahata
Since receiving a profound Divine Download in April of 2015, Anahata has trained thousands of people all around the world on how to use her Anahata Codes. With Masterclass students in all regions of the world and dozens of Certified Anahata Code Practitioners, the Tribe of Lightworkers using the innate wisdom that we are connected to all things and can tap into and activate Assisting Frequencies from the Quantum domain (without the physical being required) has steadily grown. The Sacred Equation of Intention + the Heart Chakra + the Anahata Codes can transform and upgrade all aspects of your life and ripple to those around you.
​
Her book, Resonance Remembrance - The Art of Activating Assisting Frequencies and Evolutionary DNA will be published this year.
The profound effects of activating Assisting Frequencies arises through the unique way the Codes are channeled to deliver the 7 Tools of Restoration: Reflect, Release, Rewire, Replenish, Resonate, Reunite and Rejoice.
The personal transformation Anahata herself has experienced has been inspirational.
Code Carriers (Anahata Code users) have expressed not only mental and emotional shifts, but have activated dynamic healing through to the physical. Dubbed "The Law of Attraction of Energy Medicine" due to the way in which they work with the LOA to align you with your desires and remedy your concerns, the entire modality called Anahata Codes can be downloaded for free at www.AnahataCodes.com.
​
A Quantum Leap in usage and application has been disclosed to Anahata. Once that has been in the works for over two years and has finally manifested in Divine Timing. The next evolution of this leading edge self-directed biological technology (Anahata Codes) has the potential to enhance and accelerate the speed of our awakening and the bandwidth for our evolution. This progression has emerged and is being taught in a brand new 5-week Masterclass Series.
​
With this Special Price, you receive BOTH masterclass series! That's 10 LIVE 2-hour classes plus many bonuses!
Miss the live
Build A Wellness Vortex
presentation?
ANAHATA CODES MASTERCLASS
& GRID4GAIA
MASTERCLASS SERIES
Never before offered special!
​
As any of the hundreds of Masterclass Students can attest to, working directly with Anahata is a life-changing experience, one which many students choose to repeat over and over again.
​
That's why it's such a value-add that once you've invested in the Masterclass, you're in forever! That's right, each time she presents the series live (every few months) you have a pass to attend again... for no additional investment!
​
Anahata continues to expand and improve upon her classes and she wants you along for the ride! Why purchase the Masterclasses separately (each for $397) when you can purchase both for a limited time from this page for just $555 total!)
Blessed Co-Creator,
​
When I look out into the vast beauty which we call our home, I am overcome with gratitude for the bounty of our paradise and my heart aches for those who can't experience it. Fear and manipulation have inspired separation and all the issues that singularity perpetuates (greed, suffering, lack, struggle, and control).We are so free that we can choose chains, and have for Centuries. The illusion is passing as we awaken to our true power just in time... to ascend into a new world aligned with our true essence which is unconditional love.
Some call this the end of the world and it is. But without the fear lens we are used to, we are merely taking a stand and transforming our world. We are standing up and saying NO! to the lies and fear tactics. We are ending the ancient cycles which have been our prison for so long.
​
It fills me with hope and joy that you are considering spending time with me as I take us through both Masterclass Series. I applaud you for listening to your higher calling and encourage you to break through any remaining fear-based barriers in order to get on with your path. If you do not choose to study with me, find the path that calls to you and follow it. There are infinite ways to return to wholeness.
But make no mistake, you've been called to assist and are an exquisite part of the tapestry we are weaving together. It's been my bliss to work with many of you over the last 3 years and it will be my great honor to work with those of you who are new to the world of Anahata Codes.
​
That so many are rising up and meeting their calling is a testament to the transition we are going through. Leaders are in demand to assist the collective. If you choose to answer your calling by taking this journey with me, I look forward to connecting with you as we Return to Wholeness and Ley Lines for Love together. If you go another route, may God bless that path and may you always follow your heart. The heart which connects you to me and to all things, as one.
​
In awe of who you are and will remember BEing,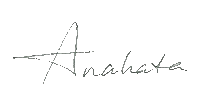 WHAT SOME OF ANAHATA'S
COURSE GRADUATES ARE SAYING
"Just when I think I know how truly magnificent you are you take a quantum leap to even more mind boggling magnificence. :-) I truly am in awe of you. You are brave and smart and and strong and beautiful and inspiring and endlessly creative."
21 Day Transformation Participant
"I love the Anahata Codes! I've got a feeling of calmness and lightness inside me now that I've never felt before. I can get up in the mornings without grumbling (not a morning person-lol) I don't feel like I'm dragging a piano around like I used to."
"Thank you a million times.. You are SUCH a inspiration...and LOVE incarnated. The Codes are truly amazing... and are so totally aligned with the question/situation each time that I am speechless."
"I just have to say that I LOVE ALL that you do and who you are. I've been on
'the path' of acquiring knowledge and alternative skills for a long time and you seem to have hit them all. Nassim, David Crow, oil, herbs, Energy Medicine and on and on. I've done so much and you have brought it all home with your vibrational numbers."
"There is such a swell in my heart <3 I'm just so happy to be doing this. I honestly feel great hope (for the first time ever)"
"So many doors have opened and I feel the changes and its AMAZING!!"
MASTERCLASS SERIES DETAILS
Here's what you'll learn during the Anahata Masterclass Series.
​
Below this section are the details on what you'll receive for the second Masterclass Series called Grid4Gaia.
​
Remember, you receive BOTH for just $555.
​
​
​
​
​
​
Attending the Anahata Codes Masterclass Series will give you the knowledge and tools you need to:
Activate dynamic healing and evolutionary DNA

Live a vibrant and full life

Empower yourself to choose joy

Harness the innate power of the Universe to heal on all levels

Co-create the life you've always wanted

Heal your physical, mental, emotional pain

Release deep-seeded insecurities, fears, and trauma

Allow abundance, ease and Grace to flow

Step into your unique gifts and deploy them for highest good

Use the Anahata Codes to facilitate transformation for others
​
Each class is delivered over a 2-hour period LIVE and is available in replay immediately following class.
Module 1: History of Anahata Codes, Vibrational Medicine, Special Class Attunement
Module 2: Setting Sacred Space, Types of Assisting Frequencies
Module 3: Muscle Testing, Anahata Codes Process, Tips on What to Ask
Module 4: Live Session, How To Record Sessions
Module 5: Zipline Convergence, Ask Anahata - Live Q & A, Membership Overview
BONUS: Frequency Alchemist Course to explore carriers (more details here)
BONUS: Applications to Heal Your Past, Present and Future (more details here)
PLUS! Crafty with the Codes Holiday Course!! (more details here)
​
​
​
​
​
​
Wait! There's more...
​
You also receive the Grid4Gaia Masterclass Series!
​
Session 1:
The Lies We've Believed and Cycled for Centuries
The first week will cover topics including:
​​
Ancient lies and manipulation (history and inner workings)

Fear Tactics and the Truth they don't want you to know

How beliefs co-create our reality… and what to do about it!

Shadow Integration and Block/Brainwashing Removal

How to co-create the life you want vs. your fears

How you can assist others in co-creating their reality using Grid Alchemy
Session 2:
Grid Dynamics: Earth Energy, Ley Lines & Vortexes
The second week we'll dive into topics like:
​
How to leverage Ancient technology via Earth Energy Grids and Ley Lines

The difference between Earth Energy, Lay Lines, Vortexes and Portals

Sacred Geometry and optimal flow (tree of life, seed of life, and more)

Earth Acupuncture (activating Assisting Frequencies for highest good)

Emotions = Water and why that matters
Session 3:
Applying Anahata Codes to Grid Work (Grid Alchemy)
The third week we'll dive into things like:
​​
How to find the codes which an area or space needs

How to make them available for those in the area to activate

Working with Sacred Geometry to amplify intention and access

Working with Codes to activate Grid systems and counteract malicious manipulation

Working with crystals to seed physically and remove geopathic stresses, density and provide support which can be updated remotely as needed

Earth Acupuncture and Feng Shui applications

Session 4:
LIVE Grid Work & Coaching
The fourth week will be spent:
​
Tying it all together through practice and implementation

Bring your purposes and regions of intentions to restore and let's work as a collective

Anahata will coach you live

A guided Carry & Projection Ceremony will also take place during this session to deepen your understanding of applying the information presented in previous weeks
Session 5:
Mentoring and Tribe Building
The final week will deliver:
​
LIVE Q&A and laser coaching of all concepts presented during the series

Explanation of the "free pass" you receive as a Graduate to attend upcoming Grid4Gaia Masterclass Series for no additional investment

Invitation to apply to become a Certified Anahata Codes Grid Alchemist (CGA)

How to host Grid Alchemist events in your area (and get paid to do so!)
Both Masterclass Series provides comprehensive teaching techniques for all types of learners.
Ten 2-hour sessions delivered live by Anahata.
​
You also receive access to all future delivery of the material which will continue to evolve and be enhanced over time.
And incredible value!
​
On Demand access to all portions of the Masterclass Series - to replay and dive deeper as it suites your desire and schedule.
​
Your Member Center houses all the recordings and handouts forever.
Supplemental guides and workbook plus resources for you to expand and integrate the information being presented.
Entry into an exclusive group of Anahata Code Tribe members with access to a Secret Facebook page built only for those who have taken the Masterclass Series.
Not sure you can attend live?
Once you register you'll receive a calendar of classes. You can join live or in replay. Each session is available On Demand upon conclusion so it works with any schedule. Additionally, you receive access to all upcoming presentations of this material for no additional investment so if you decide to take the Anahata Codes Masterclass Series first and wait a few months before taking the other, at least you're getting the $200 off price point.
$800
Don't let it block you from stepping into your power and transforming the world for the better. Email Anahata through this form and she will reach out to you with some options.
God bless you on your path to wholeness and that which you will co-create for others.

The new world is being birthed through you and your caring heart and I am grateful!
​© 2018 by Holly Hallowell
Disclaimer: Holly (Anahata) is not a doctor, she doesn't diagnose, correct or treat anything, and she's not a substitute for medical care. Anahata Codes do not imply or replace traditional healthcare.