You're privacy matters. We do not share your email.
The world is in need of wayshowers. You are one of them.
The Webinar has already taken place. You can view the replay instantly by filling out the above form.
The ability to channel Assisting Frequencies for holistic health and ascension support is our birthright. Come rediscover your abilities to activate healing responses for yourself, and facilitate these shifts for those you love, your clients, animals, and even plants.
The innate healing qualities of crystals, flower essences, totem animals, planetary energies, trees, essential oils and more are a frequency away! During this webinar, you'll learn about the Masterclass Series and how to become a Certified Anahata Codes Pracitioner.
​
A special group activation will be given live to support us on our journey as "wayshowers". Those who have agreed to come here to Earth at this time to assist in the great ascension back to unconditional love.
Have you always been a nurturer leaving little time for yourself? Learn how to help yourself AND the planet at the same time by aligning with your highest self and showing others the way.
​
Do you have a deep longing to aspire to the best version of yourself and are somehow unsatisfied with your current reality? This is because you aren't yet allowing your magnificence to expand. When you begin to live up to your potential, the side-effect is deep contentment and joy and the world is a better place because you are in it!
​
The Masterclass Series & Certification will teach you:
The science behind energy medicine

How to Set Sacred Space and Muscle Test for Assisting Frequencies

How to use the Anahata Codes for others including pets and plants!

How to become a Frequency Alchemist and develop unlimited frequency recipes

How to Heal Your Past, Present and Future
​
The material is available to refer back to and you'll have access to future classes as they are developed!
​
In awe and gratitude of what you bring this planet,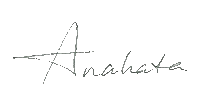 P.S. Anahata Codes are for newbies and energy healing practitioners alike. They seamlessly integrate with any modality you already practice and are a great first into the Quantum world.
Join me and get the inspiration and information you need!
All attendees will receive the Anahata Codes and Guide.